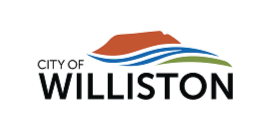 Welcome to the City of Williston Utility Bill Portal!
Please select "Create An Account" to set up a customer profile and recurring credit or debit card payments. (If previously utilizing this payment method through the old website, you will need to re-enroll here through the new portal). Select "One-Time Payment" to pay without a login and customer profile.

All utility bill payments processed after 5:00 pm CT will be credited to the next business day. Balances not paid on or before the listed due date will be subject to an 18% penalty fee. Please contact the City of Williston Water Department at 701.577.8105 with any questions.